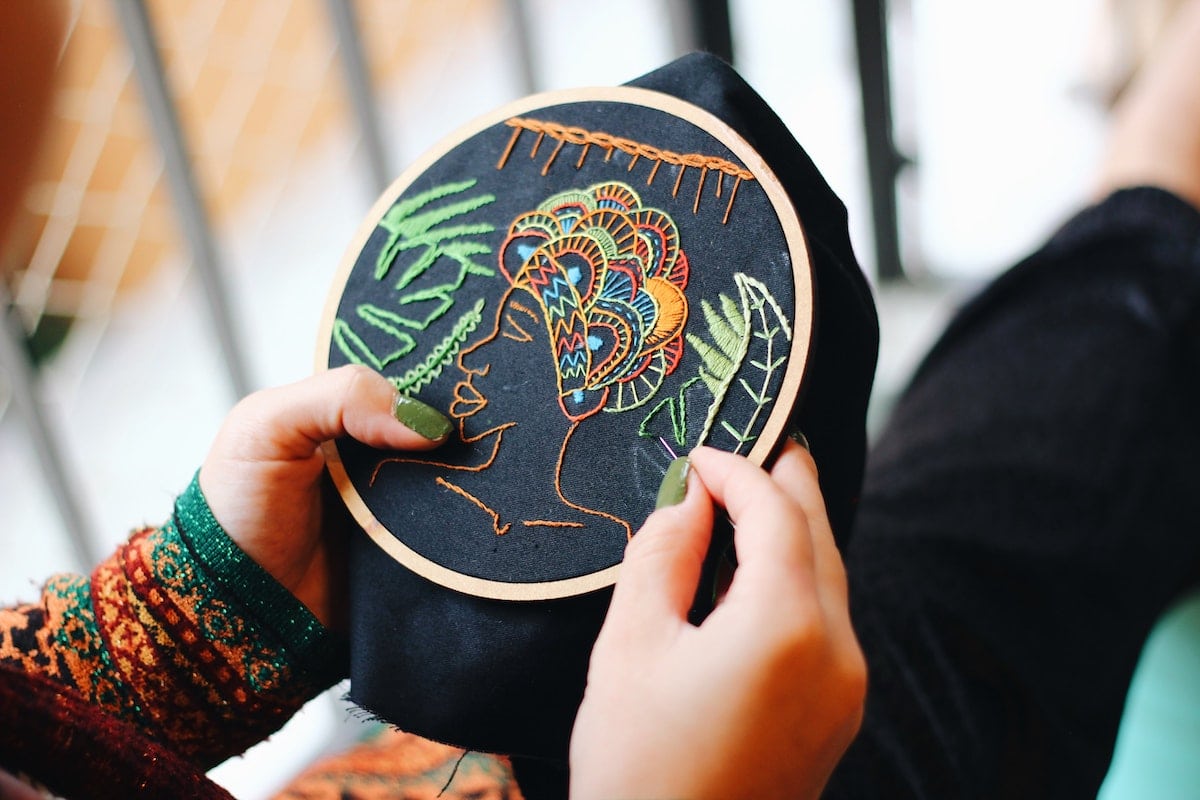 The most important tools and materials for embroidery
If you are a beginner, you can start your embroidery work with essential tools and materials for embroidery. Also, if you want to start your embroidery work with a machine, you can read our article on Best embroidery machine for beginners. Or, to jump-start your projects with two hands, gather the necessary items to get started right away. Indeed, you must have thread & needle available at home depending on your skill level.
All these necessary materials are inexpensive and available everywhere. Moreover, you can create more and more unique ideas for your outfits with these supplies. After all, you won't always be a beginner; you will progress in your skills and then you can add more items to your stock. However, this article will discuss the basic supplies a beginner needs to start embroidering.
Materials for embroidery
You will need these embroidery essentials and tools:
A piece of fabric

Hoop

Needles

Needle Minder

Scissors

Thread

Spools of dental floss

marking pen
A piece of fabric
To start the embroidery work, the first thing you will need is a piece of fabric. You can choose a fabric according to your choice, but a woven fabric makes the embroidery work easier. However, there are different options, such as linen, muslin and felt, etc.
embroidery hoop
A hoop is essential for embroidery projects as it holds the fabric securely and firmly. So you can do your embroidery work without your fabric slipping. In addition, embroidery hoops are available in different sizes. So you can get any size depending on your design size. It is easy to place your fabric in the hoop. All you have to do is loosen the screw and detach the two rings.
Now place the fabric on the inner part of the hoop, then place the outer part on it and press it. Once done, tighten the screw again to secure your fabric.
Needles
It would help if you had all sizes of needles available in your tool kit. Although each needle can go through the fabric, you need a specific needle to perform a specific task. So be sure to use the correct needle to save time and avoid damage. You can find three types of embroidery needles available in the market:
Tapestry needle

Crewel Needle

milliner's needle
A tapestry needle comes with a short barrel, a blunt point and a relatively longer eye. Most people prefer to use it for cross stitch projects because it doesn't sting the fabric thanks to its blunt tip. In addition, it quickly passes through the open holes inside the fabric.
It comes with a pointed tip and a mid-length eye. Moreover, its eye is comparatively larger than the tube of the needle. Crewel needle is one of the essential needles that most people use for their hand embroidery projects. You can find this type of needle in sizes from 1 to 12. Size 1 is the largest while size 12 is the smallest.
The milliner's needle is also known as the straw needle. It comes with a smaller, round eye. Moreover, it has a pointed tip and a long tube. Thus, it is ideal for making wrapped stitches such as French knots, bullion knots and mounted stitches. It is one of the best needles for beginners in hand embroidery.
Needle Minder
Most of the time, beginners lose their needles while doing embroidery work. They are new to this and not as organized. So it's best to have a needle keeper to keep your needle in place. A needle reminder is an enamel pin with a powerful magnet. While you are finishing your embroidery or want to take a break, put your needle on the needle guard and it won't come out.
Scissors
It's wise to keep different sizes of scissors in your stash to do various embroidery jobs. So make sure you have a sharp scissor to cut the threads or to cut extra thread strands from the stitches. In addition, it would also be useful to have a large scissor to cut the fabric. Versatile scissors do the best job of cutting patterns.
Thread
Thread is an essential part of your embroidery projects. You can find different types of threads available in the market. However, dental floss is the most common available in multicolor. Moreover, it comes with six different layers, and you can combine or separate them to have amazing experiments.
Similarly, pearl cotton also comes with twisted yarns. However, you cannot separate them. They are available in coils and coils and have a thicker bumpy texture. Thus, they look best in a line or with chain stitches, which makes them beautiful and denser.
spool of dental floss
The floss spool is essential for keeping your floss organized to prevent messes. While you are a beginner, you need to wind your floss on a dental floss spool. However, remember to mark the color number on the floss spool for your convenience.
marking pen
A marker pen is essential to transfer your design to your fabric. However, be sure to use a water-soluble pen to keep your fabric smudge-free. Thus, once your embroidery is finished, you can wash the fabric, and the mark will disappear.
Frequently Asked Questions
What does a beginner need to embroider?
If you are a beginner, you will need these materials for embroidery:
A piece of any fabric

A hoop

embroidery needles

A pair of sharp scissors

Thread

fabric markers
What are the three types of fabrics used in embroidery?
The three types of fabrics used in embroidery projects are:
Felt: It is a non-woven fabric.
Silk, polyester, linen, wool and cotton: Woven fabrics.
French terry cloth and yarn: These are woolen fabrics.
What type of fabric is best for embroidery?
Quilted cotton is one of the best fabrics for embroidery work because it is very light. However, you can use other fabrics like cotton muslin or linen as they also make your embroidery projects easier.
Conclusion
It is good to keep your materials for embroidery organized to avoid clutter. There are many small size containers and other organizers available. So, keep your tools and materials in place since you need them all the time to start a project.
We hope you find this article useful and that you now know which tools are essential to start your embroidery work. Still, if there's anything else you'd like to ask or have any suggestions, drop us a note in the comment section below. We will be happy to answer you as soon as possible.