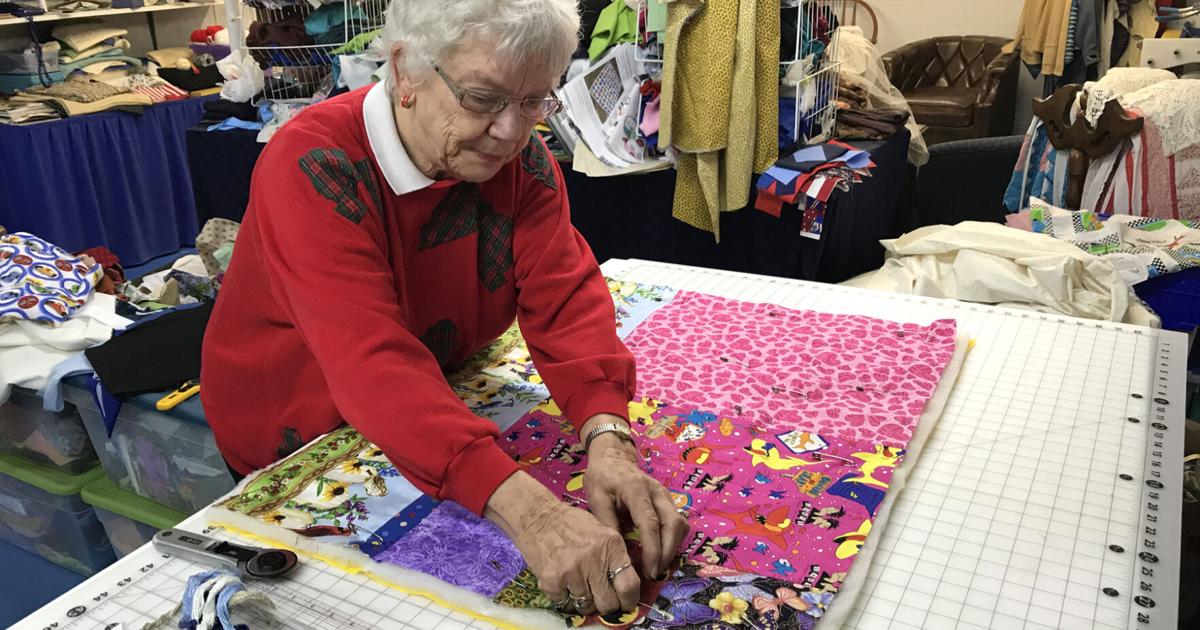 Sewing offers women an outlet to give back | Local News
By CANDY NEAL
DALE — Shirley Biehl loves to knit, crochet and sew things for others.
The 82-year-old Dale resident has made a career out of her craft through her store, Shirley's Sewing Stuff, located on US 231 just north of I-64.
But she went further. She makes various items for people in need.
"People have been so nice to me and my family over the years," Biehl said. "I want to do the same for others."
Biehl has made thousands of items over the past six years, including throws, tea towels, blankets, baby quilts, scarves and hats for adults and children, and quilts for babies and toddlers. She prefers to help small organizations and ministries that may not get the financial support of larger organizations. She does not voluntarily contribute items to organizations herself. Instead, she takes them to other Christians she knows through her church, Crossroads Christian in Evansville, who work with different groups and can distribute them.
"They work with all kinds of organizations," Biehl said. "They help veterans, people who have lost or are returning to their homes, people who have lost their children and are just getting them back. I don't know who they are, and I'm not asking.
She now sews items for the Newburgh chapter of Point Man International Ministries, an organization that works with veterans. She has also donated items to nursing homes, like the Waters of Huntingburg, hospitals, like Riley's Children's Hospital in Indianapolis, and shelters, like United Caring Services in Evansville.
She also keeps a duvet or two in her car, in case she sees anyone out on her trip.
"If I see a guy walking out with a (veteran's) hat, I'm going to go up to him and ask him if he'd like a quilt," she said. "They always look at me skeptically and say, 'Yeah, why?' So I go to my car and I give them one. They ask me how much they owe me. I don't tell them a penny.
Biehl prefers to stay on the side of creating the donations, instead of being the one giving the items to those in need.
"If I'm the one going out to give them away, I won't have time to make them," she said. "If I give it to these guys and they give it, then I have time to do more."
Biehl, who is from Dale, Illinois (yes, she now lives in Dale, Indiana), learned to sew from 4-H when she was 9 years old. His mother also sewed. She learned to knit in the 1960s and to crochet in the 1970s. Although she later wanted to open a store to sell her crafts, she waited, instead supporting her husband, Gene, in his entrepreneurial pursuits. The couple have been married for 55 years.
She and her family, which included two children, moved to Dale, Indiana, in 1975. Three years later, they lost their home to a fire. "We lost everything except the other," she recalls. "And I thank God for that."
People in her community started giving the family the items they needed to get them back on their feet. "They gave us so much," Biehl said. "They were so nice to us. It was wonderful."
Today, Gene runs his business, G&S Mobile Home-RV Service & Supply, not far from Shirley's store, which has been open since 2003. In addition to selling tools for sewing, knitting and crocheting – fabrics, threads, needles, threats, scissors, books, patterns – she uses the store's basement to create the items she donates.
"I just made a quilt for a veteran of Ferdinand," she said. "He said, 'I heard about Point Man and they wanted me to join. And maybe I will. So maybe we'll have one more in the organization.
On the first Saturday of the month, her group of knitters and crocheters – nicknamed the You Go Girls – meet in the basement of her store to make items; they even teach people interested in learning the trade.
"We have the wire to use. So you don't have to pay to learn," she said. "But you can't take (what you create) home. You have to give it.
Items made are donated to people in need.
Biehl shows no signs of slowing down. Recently, at least three of his sewing machines were loaded with portions of quilt tops. Hundreds of squares of fabric were waiting in a pile to be sewn together. A finished quilt sat on her sewing table. And sacks and containers of wool were lying on the ground.
"My goal is to find those who have nothing," she says. "I want to help as many people as possible. And that's the best way for me to do it.