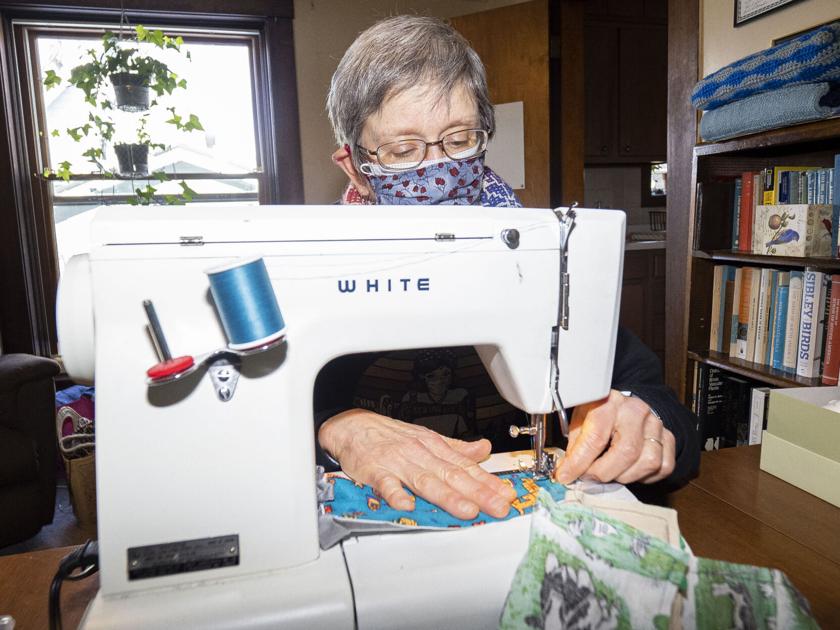 Senior spends isolation by sewing, knitting for others | New
[ad_1]
GOSHEN – Christine Guth from Goshen has spent most of the last year being "very careful" to stay home and isolate herself. For this reason, she took care of sewing thousands of masks and knitting baby blankets to give away.
Guth and her husband Bob are retired. Guth said she had previously had cancer and other health issues.
"I've been pretty healthy lately, but we've been very careful," she said. "This disease (COVID-19) looks horrible, and we didn't want to catch it. But I found ways to occupy myself in a meaningful way.
One of those significant ways has been to sew 5,700 masks that she has donated to date.
"I sewed masks almost every day for an entire year," she said.
Although Guth learned to sew when she was young, she said she has sewn more in the past year than she has in her entire life. Guth said when they learned that the masks could be useful for the first time, she sewed them up for family and friends, but then began to learn from others who needed them.
She sewed masks for the Maple City Health Center, the Elkhart County Community Foundation, and a Facebook organization called Elkhart County Masks for Students, run by Kris Peterson. They wanted to be able to provide a mask for every student in the county.
Then around April or May, Barb Nelson Gingerich, whose husband is Dr. James Nelson Gingerich of the Maple City Health Care Clinic, decided to put a clothesline in front of their house at 218 S. Eighth St. to hang. masks for neighbors. Christine helped provide the masks.
"I told Barb that our neighborhood is bigger than we thought," Guth said. "We heard that people were taking masks and sending them to their families in Mexico and someone came from Warsaw to get masks. Many students at Goshen College took them too.
She said she sewed several thousand masks for the clotheslines.
"It turned out to be very popular," Guth said. "There is a great demand for them.
The two women didn't care who took the masks. "We just wanted to express our generosity to people in times of need," she said.
Guth said most of the fabrics were donated or bought very cheaply – like buying a bed sheet for $ 2-3 and making a lot of masks from a single sheet.
Peterson has donated a lot of fabric and has already cut bands for the earrings, she said. Peterson also showed Guth how to make the earrings adjustable.
"Sometimes people deposit a few dollars at Barb's," she said, which they then use to make other masks.
"A lot of people were making masks in the beginning and gave up and some of them donated materials as well," she said.
Christine said it takes about 10 minutes to make a mask, but she does them in batches. She said she would do a bunch of them one step at a time like pinning them, then putting on the nose threads, squeezing the folds, etc.
"By the time you do the first 50 it's tough, but after a bunch; it happens easily. I watch TV pinning or listen to audiobooks, "she said. "It's part of my routine.
At the top, she said she sewed 48 masks a day. Now she does about six to twelve a day.
Guth said early on: "I heard someone say he made 1,000 masks and I was like, 'Whoa, this is amazing!' And now I'm almost at 6,000.
She sewed so many masks that she had to replace the steam iron and replace a foot pedal on her sewing machine. Gingerich gave him a more efficient cutting system with a rotary cutter.
Guth likes to wear the sweatshirt his sister sent him for Christmas that says, "Saving lives, one mask at a time.
BABY BLANKETS
In addition to sewing masks, Guth also knitted baby blankets to give to newborns at Maple City Health Center. Before the pandemic, she met a group of women who knitted at the center. She explained that there is a program at the Health Center called "More Than Money", where people can volunteer to get credit for their health care.
Guth was not interested in health care credit, but wanted to learn Spanish and many of the women in the group, called Martha's Gift, spoke Spanish. She met the women once a week for about two to three years.
"We haven't met since COVID, but I had a lot of lead given so I continued," she said.
She has knitted and donated 41 blankets so far – nine since the start of the pandemic. Guth said they make them taller than a normal newborn blanket – the size is around 40 inches by 40 inches. This way when the child grows up he can still use the blanket.
Christine said it took on average about a month to knit the blankets, but when she went on a birding trip she could "really spin them."
As for the reasons why she got involved in these projects, Christine explained: "I come from a family of actors. Mom always did different things to help.
She said that before retiring her job was "pretty cerebral. So it has been very satisfying to do things with my hands and see tangible results.
"If you had asked me when I started if I would sew close to 6,000 masks," she paused and then said, "but after a while it gets easy."
Guth enjoys the physical process and "it's fun to give things away".
She said she would occasionally receive positive feedback about what she did: "But you don't do it for that. If you can make someone's day easier or brighter, that's the payoff, "Guth said. "Spreading kindness – this is our gift to the community.
"It's good to feel like I'm contributing," she said.
[ad_2]