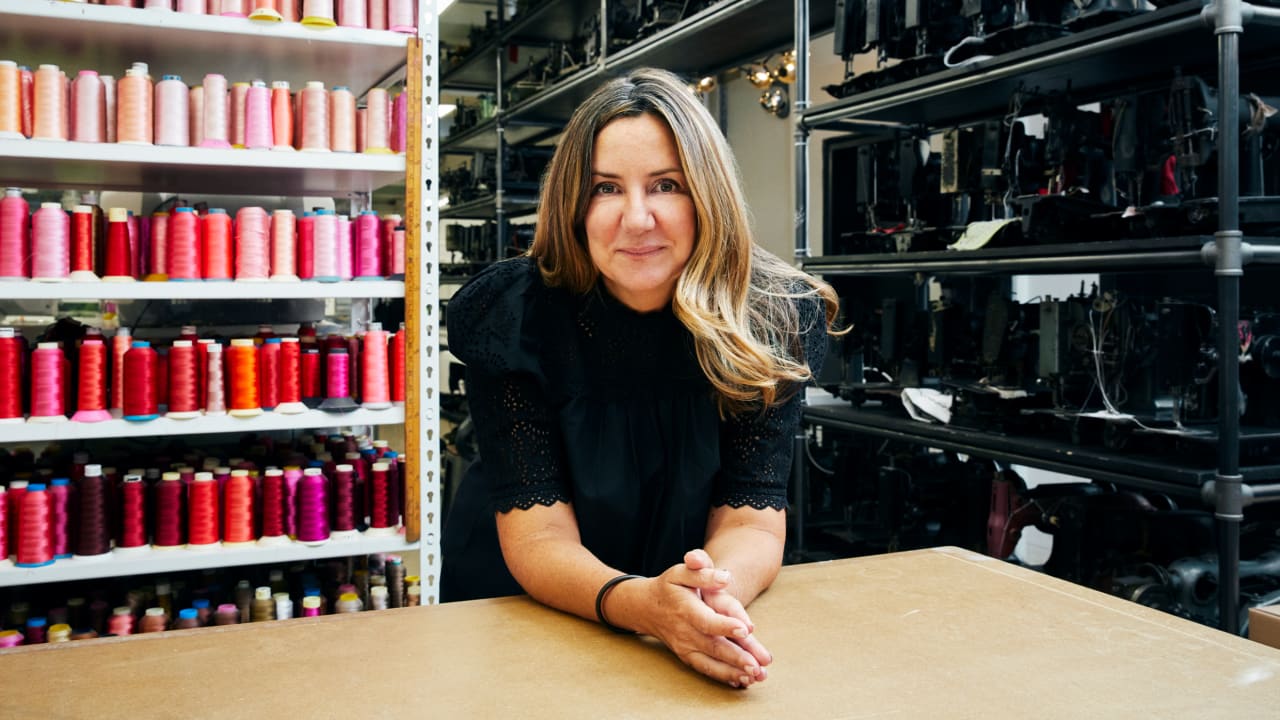 New York Embroidery Studio is the latest embellishment company
As New York Fashion Week 2022 kicks into high gear, the New York embroidery studio, which has been part of the city's apparel district for two decades, is buzzing.
Technicians use lasers that cut patterns on fabric. Craftsmen sew beads on blouses by hand. Vintage machines embellish dresses with sequins. In a few hours, these outfits will appear on the catwalks of designers like Thom Browne, Alexander Wang, Tory Burch and Kerby Jean-Raymond.
The studio is the brainchild of Michelle Feinberg, who opened it in 2002. Today, the Garment District site has 150 employees, and a new 80,000 square foot facility in the Brooklyn Army Terminal will soon create more than 500 jobs.
The NYES tells a larger story of how fashion in America has evolved over the past two decades. Feinberg saw competitors close their doors, unable to compete with cheaper labor in Asia; hers is now the last remaining beautification factory in New York. More recently, she has seen the pandemic hit the apparel industry, as fashion shows were halted and consumers stopped buying clothes.
But as her studio returns to full capacity this week, Feinberg sees New York's fashion industry coming back to life.
When Feinberg started the New York embroidery studio, she had already worked more than a decade in fashion manufacturing. As a student at the Fashion Institute of Technology in the late 1980s, she landed a job at the century-old company Manhattan Scalloping, which focused on embellishing — or adding decorative elements — to clothing. When it closed in 1999, Feinberg worked for the company that had purchased its machines, Mona Slide Fasteners, founded in 1944.
These companies specialized in sprucing up mainstream clothing for local department stores. At the time, there was enough beautification work in New York City to support many manufacturing businesses.
"We worked 24 hours a day," she recalls. "We couldn't find enough workers; we had to hire [incarcerated] people leaving work. There were several competitors in my own building. We had a camaraderie. I walked back and forth asking if they had a particular type of yarn I could borrow or an elastic band.
NYES employs 150 workers in its Garment District workshop (pictured here). When fully operational, the Studio's new Brooklyn Army Terminal plant will have created more than 500 jobs.
But in the 90s, things started to change. China was emerging as a global manufacturing hub with expertise in apparel. Mass-market fashion companies realized they could manufacture their products cheaply overseas, so one by one, factories in the Garment District began to close. Feinberg began receiving job offers to travel to Asia to teach local workers how to use machines and sew embellishments.
But Feinberg wanted to start a family, so she decided to stay in New York. It was 9/11 that prompted her to start her own business. Mona Slide was set to move to the Bronx, but in the aftermath of the attack on her city, Feinberg pledged to keep the Garment District alive.
Feinberg opened NYES in 2002. "We were born on 9/11," she says. "I've worked on 36th Street for over 30 years now. I've had a front row seat to see how the fashion industry in New York has changed.
NYES is home to state-of-the-art equipment, like this digital embroidery machine.
But much of the embellishment is still done by hand.
When she opened NYES, Feinberg made the strategic decision to work with high-end designers like Alexander Wang and Marc Jacobs instead of cheaper department store brands. Over time, she developed a network of like-minded clients.
"Twenty years ago, I had a fleet of door-to-door salespeople going to brands," she recalls. "But now it's word of mouth. Designers are transient; they go from brand to brand and take me with them.
To stand out from its competition, Feinberg must be able to get the job done quickly. Designers often come to see her at the last minute to discuss one of their creations. Feinberg and his team helped with the creative process, offering ideas on what embellishments to incorporate or whether to use a new technique like laser cutting. Today, NYES offers a huge portfolio of techniques to its clients.
NYES artisans often work around the clock to ensure garments are ready on time. For all the high-tech equipment the company has, much of the work is still done by hand. "If I want to compete with Asia, I have to be faster and more agile," Feinberg says.
Feinberg and Vicki Cruz, Floor Manager at NYES. During New York Fashion Week, the team is often working around the clock.
While NYES is largely focused on creating high fashion pieces to show at New York Fashion Week and the Met Gala, Feinberg has also branched out into designing costumes for television, film and Broadway. Recently, the Studio made costumes for Amazon's period comedy-drama The Marvelous Mrs. Maiselusing machines that were common in the 1950s. NYES also created replicas of late 19th century clothing for the HBO series Golden age.
But when the pandemic hit, NYES operations came to a halt, as did the rest of the fashion industry in New York, but Feinberg was desperate to keep his workforce employed. Early in the crisis, it realized it could direct its operations toward creating personal protective equipment for frontline workers. "I have talented, knowledgeable people who stayed up until 3 a.m. getting clothes ready for a Marc Jacobs show," she says. "I really had no choice but to provide them with jobs."
Feinberg was awarded a major federal contract to create plastic face shields and gowns that protect medical workers from bodily fluids and pathogens. This new workflow has helped her business weather the storm and, in fact, grow. Today, NYES continues to manufacture PPE for the city's healthcare workers. "If the Garment District can maintain a percentage of government contracts, it will allow fashion manufacturing to continue to ride the waves of instability in the future," she says.
During the pandemic, NYES shifted to manufacturing gowns for medical personnel.
It has a wide portfolio of fabric embellishment techniques.
Heading into this year's Fashion Week, Feinberg watched New York designers return to the pre-pandemic pace of life after two years. NYES is running at full capacity and employees are once again working all hours of the night preparing outfits for the show. It's hectic, but Feinberg loves it because it's a sign that New York fashion is back.
"When I graduated from college, I never could have imagined all the things I could do in my career," she says. "One day, we make a gown that protects a doctor from the pandemic. The next day, we're making a 3D dress for Thom Browne that Lizzo will wear to the Met Gala.
The studio has vintage machinery that creates authentic looks from earlier eras.
It also has the latest laser equipment that cuts metal with precision.