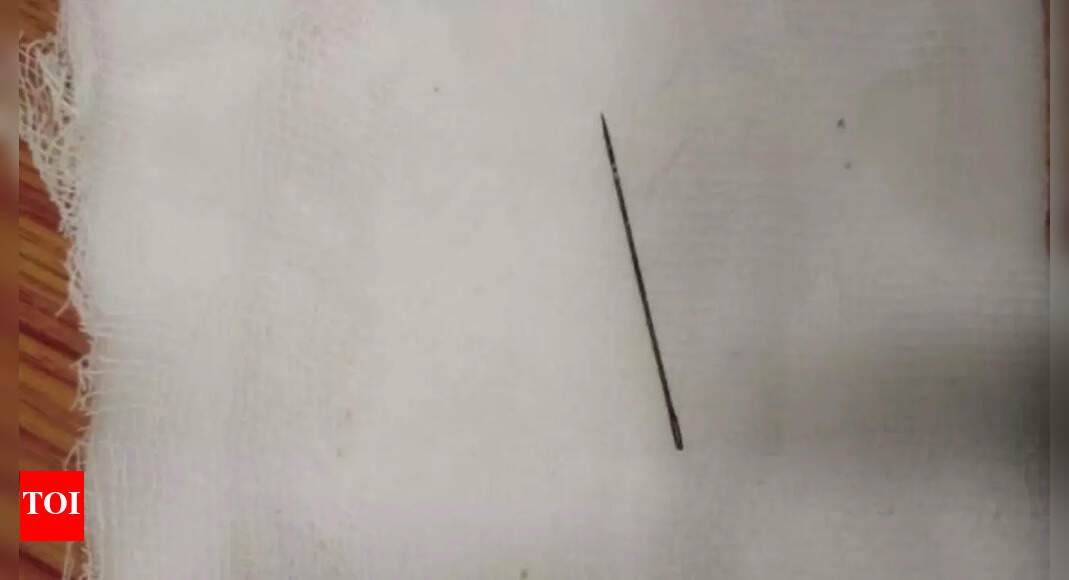 Jaipur: Sewing Needle Penetrates Abdomen, Pierces 2-Year-Old Boy's Liver, Pulled Out | Jaipur News
JAIPUR: Needles, knives or other unreached objects placed near toddlers or infants can cause accidents at any time. In such a case of parental neglect, doctors at Sawai Man Singh Hospital (SMS) removed a two-inch-long needle, used to sew clothes from the left lobe of a two-year-old boy's liver, which was released from the hospital. hospital after a seven-day stay following an operation at the hospital on Thursday.
The boy was first taken to JK Lon Hospital as the needle thread was clearly visible in the area between the lower left chest and abdomen where the needle had entered. The boy's parents informed the doctor that they did not know how the needle entered the baby's body.
When the doctors tried to pull the needle out, they only succeeded in pulling out the thread because the needle had moved completely inside the baby's stomach area.
JK Lon Hospital referred the baby to SMS Medical College Cardiothoracic Surgery Department. Doctors tried to locate the needle using X-rays. The needle was located inside the stomach. When the doctors started the operation, they couldn't find the needle in the stomach area.
"Upon closer examination, we found that the needle had entered the left lower lobe of the liver. The two-inch needle was one inch inside the liver. We were able to remove the needle, which caused a minor liver injury which will be healed within the next few months," said Dr. Anil Sharma, Chief of Department (Cardiothoracic and Vascular Surgery) at SMS Hospital.
Dr Sharma said the boy could have died if the needle punctured the aorta, the inferior vena cava which is an important vein supplying blood from the lower trunk, abdomen and lower limbs to the right atrium of the heart.