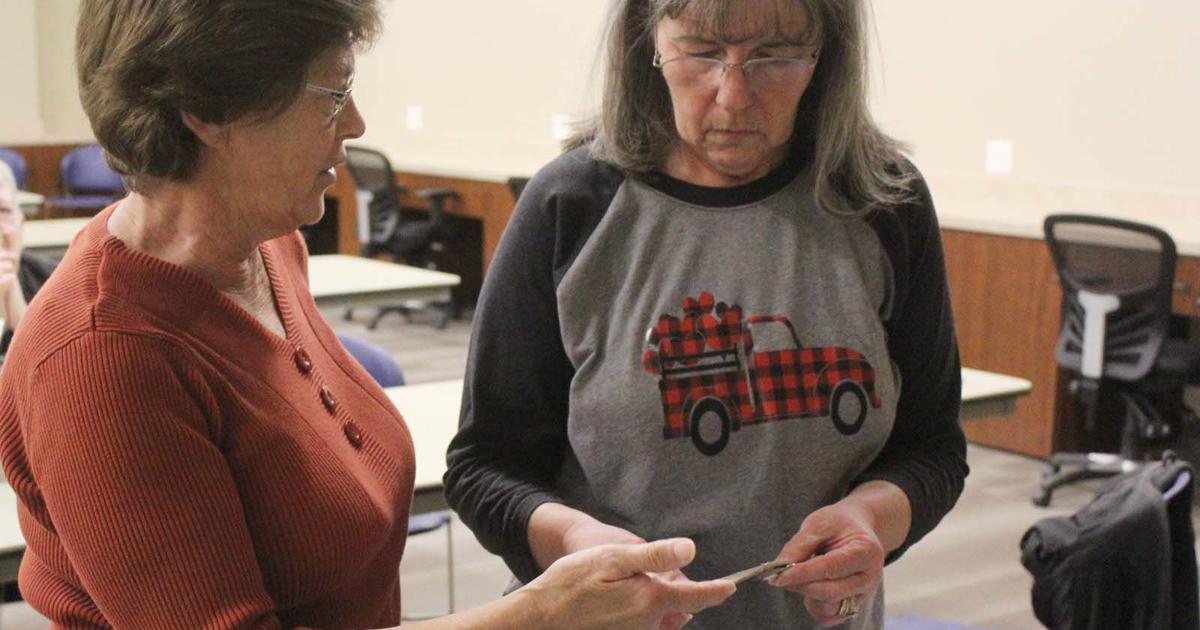 Guild shares its passion for embroidery | Local News
Those interested in learning more about embroidery have the opportunity to do so with the local embroidery guild which meets twice a month at the Hardin County Cooperative Extension Service office in Elizabethtown.
Guild founder Mary Logsdon said everyone is welcome to learn more about embroidery – the art or process of forming decorative designs by hand or machine.
"We invite everyone and everyone," she said.
Although the guild doesn't usually meet in January, Logsdon, Aquinda Woodrum, and Amy Spriggs could be found at the Extension Office on Thursday morning to chat about embroidery. The three said a variety of things can be embroidered, such as cotton, silk, toilet paper, boots, dog collars, t-shirts, blankets, towels, etc.
"Anything a needle can go through, you can embroider," Spriggs said.
Spriggs' interest in embroidery began when she wanted to monogram her granddaughters on their clothes and other items. She said it lasted six months before buying a bigger machine to do bigger projects.
Spriggs said she started out working in a spare bedroom, but now has a She Shed attached to the back of her house.
"It's packed," she said.
It was Logsdon who sold Spriggs his first embroidery machine. Logsdon took up embroidery after her mother's death.
"I was really depressed and had retired from work, and I needed something to do," she said. Logsdon started researching machine embroidery and got their first machine in 2013.
"It morphed from there," Logsdon said. "…It's a lot of fun and there are designs that mesmerize you."
According to Logsdon, they started the guild about five years ago, starting with just three people. It has since grown to have around 15 active members and around 80 inactive members.
Logsdon said they usually have a project they're working on and it's not always an embroidery project. For example, once the members brought their sewing machines and they made dog pads for the Humane Society.
"We're always looking for suggestions on things to do," she said.
Woodrum said they are always looking for new members. In addition to machine embroiderers, Spriggs said they also welcome hand embroiderers. Spriggs called the group a family.
The Embroidery Guild meets 6-9 p.m. every Tuesday and 10 a.m.-2 p.m. on the fourth Thursday at the Hardin County Cooperative Extension Service, 111 Opportunity Way, Elizabethtown.
For more information, contact Logsdon at 270-668-7603.