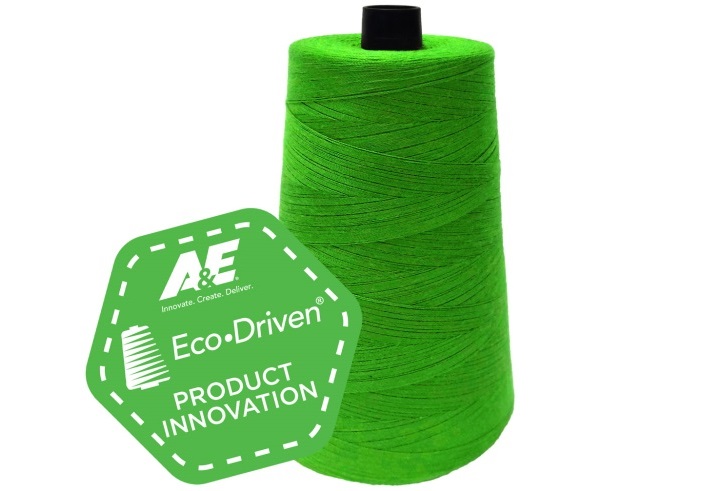 A&E Launches Repreve Recycled Core Spun Sewing Thread
American & Efird (A&E), a leading textile manufacturer, announced the official launch of its recycled core spun industrial sewing thread, Perma Core using Spot.
Unifi, the maker of Repreve, turns plastic bottles into 100% recycled polyester fiber, which is then turned into products sold by major consumer brands and retailers. Perma Core using Repreve combines a recycled continuous filament polyester core and A&E's polyester staple wrap to produce a high quality, environmentally friendly industrial sewing thread.
"We are delighted to partner with Unifi and bring this innovative and environmentally friendly product to market. Our customers have requested a quality solution to produce complete products using Repreve, from fabric and yarn to sewing thread, and our innovative teams have worked together to deliver economical, high quality sewing thread that is durable and to fill that gap by creating Perma Core using Repreve," commented Chris Alt, Senior Vice President of Global Sales, A&E.
Eco-responsible sewing thread
"Perma Core using Repreve provides an environmentally friendly sewing thread solution without sacrificing sewing quality or performance as seen in some existing recycled threads in the industry," said Chris Alt.
"Perma Core using Repreve is extremely versatile and can be dyed, finished and shipped from any A&E global manufacturing site and is available in A&E's global color range. The portability of this product is important for our global customers and prospects who already incorporate Repreve fabrics into their products, enabling them to carry out their sustainability efforts profitably, no matter where in the world they place their sewing production.
Transparent recycled product
"Consumers are looking for environmentally friendly products and brands from start to finish. With Perma Core using Repreve, brands can be confident that their products are sewn with environmentally friendly thread," said Jay Hertwig, Vice President of Global Brand Sales, Marketing and Product Development for Unifi. .
"At Unifi, we are committed to providing a transparent recycled product through our U Trust program with Fiberprint technology, which verifies that products contain Repreve in the correct amounts. We are proud to be associated with A&E and support their environmental initiatives.
10 threads of durability
According to the manufacturer, the commitment to sustainability is an important and ongoing goal of A&E. A&E 10 threads of durability The platform aims to balance social responsibility and environmental impact with business growth objectives.
This initiative complements Unifi's goal of empowering brands to achieve their own sustainability programs through its Repreve brand.