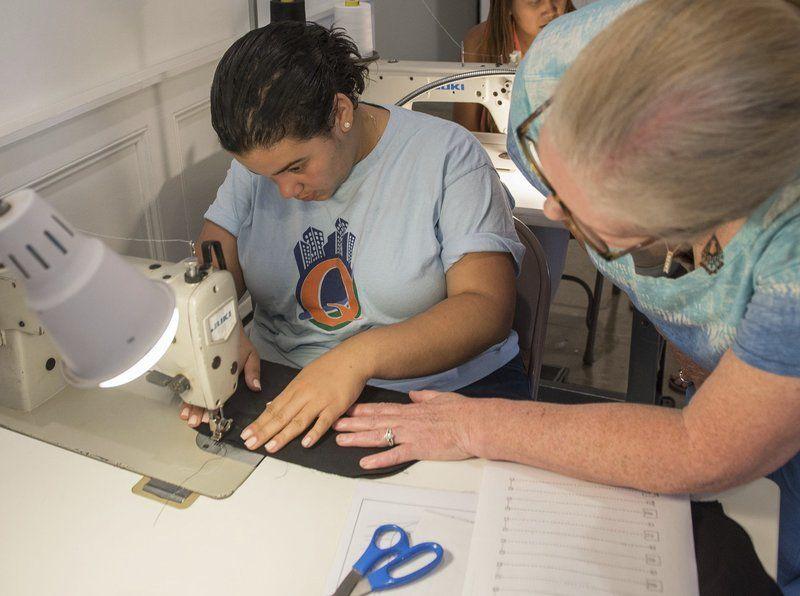 Sewing the Future: MakeIT Haverhill Offers Vocational Training for a Good Start | Haverhill
HAVERHILL – The rhythmic hum of sewing machines could signal the sounds of a better future for some residents of the Mount Washington neighborhood and other parts of the city.
Residents seeking training as sewing machine operators can now attend free classes offered through a partnership between Urban Kindness – the Mount Washington neighborhood civic improvement group led by Keith Boucher, and Community Action Inc. in Haverhill.
Their new MakeIT Haverhill, a nonprofit training center and manufacturing space on the corner of Bartlett and Washington Streets, is equipped with four Juki-branded industrial sewing machines donated by Southwick, which makes Brooks Brothers suits in a Broadway Business Park factory.
For Fior Daliza, who, along with her husband and their children, arrived in Haverhill earlier this year from the Dominican Republic, not speaking English has been a barrier to finding a good job.
In addition, she did not have many professional skills other than informal training in her native country in the use of a sewing machine.
Then she heard about the MakeIT center, where she is about to land a job in Southwick.
"I've been here four times so far and hope to learn enough to find a job," she said through an interpreter – her son, Dauri DeLacruz, 13, a student at the Consentino school.
A ribbon cutting for the new center took place on June 14th and now participants are involved in learning new skills or improving the skills they already have.
Jan Williams of North Andover, Diane Boucher (Keith's wife) and Helen Sheehan of Haverhill are the sewing machine instructors at the center.
Keith Boucher has said he hopes to place his first intern at Southwick in about a month. He said the company was very receptive to hiring people from different cultures.
"I met Southwick's manufacturing manager, Curt Clark, who also provides us with technical support, sewing machine maintenance and fabric scraps for practice," said Keith Boucher. "He also provided a training program so that the people we work with can find employment in Southwick, where they have a demand for sewing machine operators."
For those interested in technology, the center has 14 laptops donated by the Federal Reserve Bank of Boston. Computers will soon be loaded with Microsoft Office applications. Training is expected to begin this fall.
State-of-the-art training in computer-aided design is another offering. Anything that is designed can be produced with the use of 3D printing technology. Chris White of CreatorPult, a creative space on Essex Street, donated three 3D printers to the center.
"CAD skills could be a career path to places like New Balance, which is opening a factory in Methuen and will include a design center for creating 3D printed shoes," said Keith Boucher. "Southwick is also considering 3D printing for its operation."
The center also has a 65-inch television and a 75-inch television for presentations, as well as a conference room for 10 people.
Angela Meade of Haverhill saw a poster at the public library for MakeIT Haverhill, where she took lessons on a sewing machine in hopes of learning enough to modify her own clothes.
"I would also like to be able to make my own clothes and maybe translate them into something profitable," she said.
Keith Boucher has said he would like to start a collaborative sewing group that, as a first step, makes fabric grocery bags in place of the plastic bags now banned in Haverhill supermarkets.
He also plans to offer English lessons.
Keith Boucher bought the building, which he says was home to the Benedetti shoe store decades ago. He rents it to MakeIT Haverhill, a community action project.
Community Action and Urban Kindness are part of the Mount Washington Alliance, which received a $ 500,000 grant from the Federal Reserve Bank of Boston a few years ago to improve the socio-economic situation of residents in this part of town.
"We are not a job placement service, but we help people get to where they want to go," said Boucher.